Travel Guide for Atlanta
Hotlanta does it urban style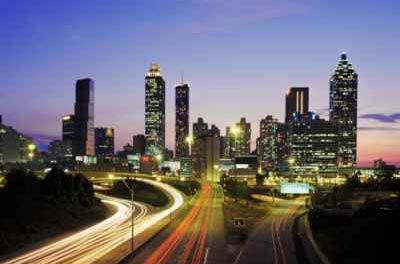 One things for sure, Atlanta doesn't do mediocre. It seems to be the city of Interesting as far as things to do and places to see are concerned.
Not only is it considered to be one of the hottest spots to be these days, with the fastest growing urban sprawl in the United States, but it's full of quirky and fascinating draw cards that'll make your trip to Georgia unforgettable.
Things to do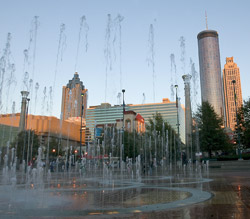 Your itinerary should go like this;
Centennial Olympic Park (right) for festivals and activities for kids, and also an opportunity to see what Atlanta has done to the park since the 1996 Olympic Games. There are the new Fountain of Rings, as well as concerts and shows and sports events held in the stadium.
Underground Atlanta; this place is fascinating. You can either do the guided tour or have a wander yourself, either way you'll be enthralled in its history. From the rubble of the Post- Civil War in the 1860's, this Underground Depot has been turned into a restored bustling memorial to the old city of Atlanta.
An original damaged gas lamp still stands where it was burnt by Union troops in 1864 and the Zero Milepost of the Chattanooga to mid- Georgia line is kept by the entrance above, reminding people of what makes Atlanta so special.
But these days, the Underground (left) is a new and fully refurbished city, with shops, fine restaurants and a hugely popular night scene.
Things to See
Next stop is the World of Coca Cola. It doesn't matter who you are, this is a must. Atlanta is the birthplace of the globally renowned Coca Cola. Some things don't transcend language or international barriers, but one thing's for sure; most people in the world today have tasted a Coke, it's served in over 200 countries world wide.
This is the building dedicated to the history, pride and brand that is Coca Cola. And even if you don't like the stuff, the story of how this trade mark became a household name since it's creation in 1886 will hold your interest. Plus the amount of merchandise and artifacts on show is astonishing…
While we're on history, check out the Martin Luther King Jr. National Historic Site for a complete history of this revolutionary leader, the man who led the American civil rights movement. King was born in Atlanta in 1929 and assassinated in 1968, his now deceased wife upholding this house of memoriam to him and his infamous ideas. This building has been the site of speeches made by Presidents of the United States and holds the Ebenezer Baptist Church where King and his father both pastored in the 1960's.
For kicks see the world's largest aquarium, the Georgia Aquarium, This aquarium showcases around 100,000 specimens in tanks that hold somewhere about eight million gallons of water. Wow.


See it your own way, check out prices for car rental in Atlanta!
And for a bit of rest or maybe a bit of play, check out the
Atlanta Botanical Gardens
, filled with little nooks and crannies to get lost in. There are gardens upon gardens for all of your floral dreams, with
new exhibitions
on show regularly. Wander around the 15 acres of woodland, outdoor displays and a huge range of
endangered
or
rare
plants, backing onto the Piedmont Parklands.
Plus there's also a lot for kids, like the maze that leads you from a colorful caterpillar's mouth to a
Butterfly Pavilion
, and fossil digging.
Atlanta Arts
Entertainment begins and ends at the Fox Theater (left), a restored 1920's theater that now is the home of musicals, shows and the oldest continuous Ballet Company in the US. It is now lavishly ornamented in an alfresco Arabian theme, with stars that shine from the rooftop and flamboyant period furnishings.
But now onto the Virginia- Highland neighborhood for a more ornate and rustic feel to the night. This area is famous for its nightlife and dining, not to forget the shopping. The places here are mostly restored buildings and creative in nature, with lots of galleries, antique shops, salons, spas, and quaint tasteful restaurants. The streets are also dotted with cute bars.
Save a day for this one, Stone Mountain Park is more than 3,300 acres of parkland with lots to keep you busy and entertained (left). Four million people visit this park every year to see Georgia's only 4- D theater, the largest indoor playground in Atlanta, rides and river cruises, historical exhibits and an amazing laser show with a fireworks finale on occasion. Kids and kids at heart will be amused.
The entrance fee is $8 and you will need a car to visit Stone Mountain Park. But don't worry, the fee to the laser show is included in your entry fee and we can cover that car rental issue!

By Leah Bradicich
If you need a cheap car rental, check out our deals for Atlanta!