Honolulu Car Rental

Pass the mahi mahi, a Honolulu travel guide
Aloha! We could tempt you with seductive images of crystal waters and white sands, tanned hula beauties and cocktails in coconut shells, but there just isn't a need (sorry, I put them in anyway, they're just so pretty).
You should know by now how beautiful Hawaii is. Its landscape has been tattooed into our brains as a mecca of nature, a haven for the weary, and where we go for the quintessential island paradise. So it goes without saying, Honolulu is a wonderful place to be. Any month of the year, you'll find something fun to do and an amazing scenic backdrop while you do it.

Things to do
Jumping right in, pun intended, have a splash in those crystal waters. Honestly, you're mad if you don't. While you're on the shore, take the opportunity to pick up a surfing lesson. It is Hawaii after all, where else can you get away with it? There are plenty of surfing lesson 'sign up' stalls on the Waikiki shore, and you don't even have to book, just get taken by the lovely lads who will give you all the pointers you need to know, with some practical help on the sand and in the waves.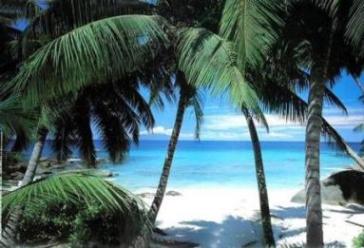 Which brings us to Waikiki Beach (above) itself. This is the main (and most famous) beach in Honolulu, though some might say it's one of the most notable in the state. For good reason too, it's simply stunning. Don't be deterred by the other tourists, Waikiki has so much to offer, you can always find something to suit you that's not overgrown with loud, obnoxious travellers.


It's at this beach you can best learn how to scuba dive, snorkel, surf, swim or canoe. Other adventurous ideas will have you hiking up to the famous Diamond Head for a spotless and breathtaking view of Waikiki from above. Diamond Head is no longer just a mountainous viewpoint, but an icon of Honolulu. Your journey up to the Head will also get you some great interaction with Hawaiian nature.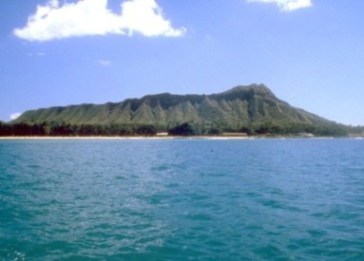 Up the top, a congregation of joggers and walkers can always be found, as there is a popular route encircling the Head (left). It's a fantastic view and also a good way to take advantage of the year round, tropical weather. If you're not puffed yet and want a few more trails to venture around, Kapiolani Park and Ala Moana Park are two of the most popular running areas in Honolulu.
Before you leave Waikiki beach, remember this district is a central spot for hotels and resorts, shopping and tour jump- off points. The biggest and best shopping can be found nearby at the Ala Moana Center, which is full of upscale boutiques, as well as being the world's largest open- air shopping center.


Taste bud treats
Get into local culture at a luau, because while they might seem a cliché on the Saved By the Bell episodes, luau's are a gateway to the heart and soul of the Hawaiian people. Luau's can be found at most resorts on the island, held nightly for visitors wanting to experience this native feast. You can taste test all sorts of regional foods and cooking sensations, as well as listen to great live and local instruments plus see dance performances.
While we're on the topic of food, don't be afraid to try the things you don't know or recognize, Hawaii has got a large array of traditional recipes that you can't replicate on the mainland. Be spontaneous by avoiding larger food chains, and opt for more exotic foods you've never tried and surely won't forget. You are on holiday after all!
And despite this lengthy plug for the beautiful city of Honolulu, if you're short on time, be sure to check out the surrounding islands, too. Day trips are a good way to mix up your Hawaiian experience as each island is different and you'll be sure to find new things to entertain and try. Island hopping is also pretty easy to plan with plenty of tours operating daily from Honolulu, just ask the locals for advice on where they think should be your first stop!
Aloha...

By Leah Bradicich
You can't get everywhere on a surfboard, luckily we can help you find a rental car in Honolulu!