Martha's Vineyard Car Rental

Relax into a Martha's Vineyard vacation
Martha's Vineyard is a small island off the coast of Massachusetts. And while this island might be made up of many small towns, each one has big personality. Many people find themselves holidaying in Martha's Vineyard, basking in the summer sun, relaxing from all the pressures of normal life.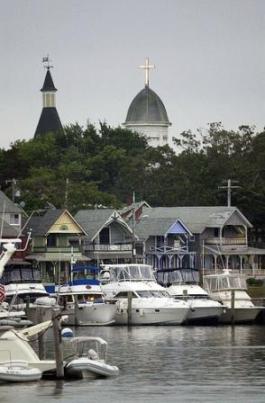 The only way to the island, unless you have a plane, is to take ferry ride from any number of locations. When you arrive, the first thing you should do is head to Edgartown. This quaint little town has been settled since 1692 and has established itself as one of the most "elegant communities" on the island.
Made famous by Spielberg with the JAWS series, and a long list of notable residents, the sense of history is great on this island.
Here you can find all kinds of nook and cranny shops and art galleries, but you might need to hop out of the car for a while and walk around to find them. Make sure you stop at one of the world famous Murdick's Fudge Shop placed right in the middle of downtown where you can watch as the professionals hand make over fifty different kinds of fudge and peanut brittle. BYO toothbrush.
It's a short six mile drive along a beautiful coastline to get to Oak Bluffs. The Flying Horse Carousel is a main attraction for people of all ages with a bit of a historic link. This carousel is one of the oldest in the nation and anyone under twelve can enjoy a ride on what appear to be flying horses (which are actually suspended from above, instead of supported from below). The horse figures are so old, the hair used is real horse hair and the saddles are made from leather.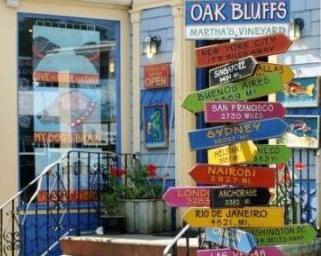 Oak bluffs (left) also has the famous "gingerbread cottages" where once a year in the fall, the community takes part in Grand Illumination Night decorating their houses with thousands upon thousands of Chinese lanterns and light them all at once. It's quite a sight to see, if your holiday coincides with the festival.
One of the oldest communities in Martha's Vineyard is West Tisbury, a must if you're visiting the island for its historic background. The town was first settled by English settlers in 1669.

Other historic locations are the Gay Head (Aquinnah) and East Chop Lighthouses, which are respectively 150 and 130 years old. There are also multi- colored clay cliffs in Gay Head which are worth a look.