Phoenix Car Rental
Phoenix: where a winter is more like a summer

It's hard to write about the city of Phoenix as it seems to be comprised of such a broad spectrum of factors which determine its atmosphere.
Los Angeles is for movie stars, Seattle is for musicians, Las Vegas for casinos, Boston for historians etc. But Phoenix is a whole range of things put together to give its population the unique opportunity to never get bored.


The fun stuff
Its biggest and best museum in this city focuses on Native American Art. The Heard Museum (right) is one of the biggest art museums in the Southwest and its extensive collection is the proof. While dedicated to Native American Art, with a massive amount of artifacts and historic pieces, the museum has also gathered together an impressive amount of classical and contemporary works. Artists on show include Frida Kahlo, Picasso, Rodin, Rousseau and Diego Rivera.
Before we move on, another artistic mention is the Phoenix Art Museum's exciting Fashion Design Gallery. Showcasing ancient artifacts of design, historic clothing pieces and constant exhibitions of famous and infamous designers, dating back from centuries ago! If you want to know the history of shoes, this is your place (because we all know shoes really are more like art anyway).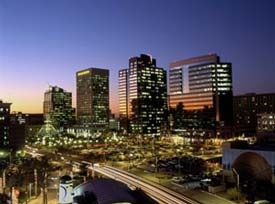 The Phoenix restaurant scene is multicultural and eclectic with dining including French, Italian, South Western, Asian, Mexican and traditional American steak houses. Hard Rock café is a winner amongst the locals and tourists alike, while there are plenty of smaller, less known gems around town you can walk in to, without a reservation. Some good and decently priced Mexican is Carolina's Mexican Food, apparently THE best, and Different Pointe of View at Pointe Hilton Tapatio Cliffs Resort offers a five star view while you eat. Coup des Tartes on North 16th Street is romantic and French, if you're doing the couple thing.
Nightlife is both chic and sleek for the arty martini drinkers, with sports bars and traditional pubs for the athletic and more adventurous. Amderstam on North Central Avenue and Merc Bar on East Camelback Road are for the flirty, upscale cocktailers, while Houston's in Biltmore and Majerle's Sports Grill on North 2nd Street are for a more relaxed brew.
Plad trousers a plenty
More than 200 golf courses are spread amongst the Phoenix landscape, some set closer to the desert, taking advantage of the environment for the aesthetics of the course. Some look like they belong more in Los Angeles or areas with more rainfall, they're so green and leafy. Be warned though, sunscreen is a necessity in the wretchedly hotter months. Phoenix is a very hot place, just in case you didn't know already. They say even the plastic flowers wilt in the middle of summer in this city.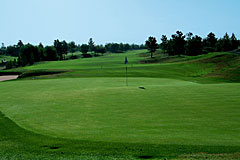 Boulders Golf Club and Resort, North and South and the Grayhawk Golf Club use the desert surroundings on the course grounds if you're traveling around and want to make the most of your Phoenix experience.
The Raven Golf Club at South Mountain (left) on the other hand is green and luscious, with pine trees and wide fairways, a break away from the dry desert landscape. It's also really close to a whole pile of restaurants, pubs and hotels in you don't want to travel far after your round.
Top things to see
And while you're hanging around Raven, you might as well do a bit of sight seeing. South Mountain Park itself is the largest city park in the United States and unbeatable if you want a nice stroll or even a good hike. Wildflowers bloom in springtime and become knee deep in some areas, a beautiful sight and fun way to roll about one lazy afternoon.
If you've skipped the golf part altogether and you're all about the parks and wildlife, the Desert Botanical Garden is a must see. On the very top of any keen traveler's itinerary, this garden is stunningly attractive, but also educational and fun for the kids. Don't fool yourself, it's more than cacti and tumbleweeds, a guide can talk you through the different species of local plants and their uses for medicine and food etc. On your way out, have a think about visiting the Phoenix Zoo, it's next door.
Wherever you plan to go, the sports grounds or flower shows, don't let the scorching Arizona sun ruin your travel plans. You'll need a trustworthy mode of travel to take you around. Public transport is inconvenient and unreliable, but luckily, you're in the right place, we have fantastic deals on car rentals in Phoenix. Turn up the air con and step on it!
By Leah Bradicich
Have a look at our great deals on cheap car rentals for Phoenix, Arizona