Compare car rental Boston deals to find the cheapest rates - save time and money!

Reasons why it is better to rent a car when traveling around Boston
In New England (a northeastern area of the United States), Boston is the largest city. And as one of the oldest cities in the country, Boston is both the capital of Massachusetts and the center of a metropolitan area home to between 4 and 8 million people, depending on whether or not you count the millions who commute into Boston during the work week. Boston is about 200 miles northeast of New York City.
If your travels require driving into or around the city, you can always use VroomVroomVroom to find a cheap rate on a car rental in Boston!
The most famous event in the city is held every April – the Boston Marathon, the oldest annual marathon in the world. The 26.2 mile run takes place on Patriots' Day, along with a Major League Baseball game hosted by the Boston Red Sox, that also starts in the morning.

What if you're flying to Boston? Can you find cheap rental cars at the Logan Airport?

Travelers entering Boston often fly in Logan International Airport on the East end of Boston. Logan International handles the majority of passenger flights for Boston, although T.F. Green Airport to the south in Providence and Manchester-Boston Regional Airport to the north are additional options for reaching Boston. It's recommended that no matter where you touch down, reserving a car rental using VroomVroomVroom will save you time and money, and also provides great rental car options for the busy Boston area traffic!
Logan International Airport in Boston is vast, sitting on 1700 acres of land and including its own power plant, police and fire stations, and a non-denominational worship chapel. In 2008 the airport's 9/11 Memorial was dedicated – it's a beautiful glass sculpture surrounded by 2.5 acres for remembrance and reflection, in honor of the American Airlines and United Airlines passengers and crews who died in 2001.
Passengers at Logan International will use Terminal A, B, C or E, and each has its own baggage claim, walkway system, and facility for ground transportation. The airport offers convenient car rental options, including Alamo, Budget, Dollar, Enterprise, Hertz, National and Thrifty. It is a good idea to contact your
Boston airport car rental
provider via phone or the internet for info related to your specific trip.
What should you do first when driving around Boston?
Take a drive in your rental car to the city of Boston and come take one of the first walking tours on the
Freedom Trail in America
! If you prefer not to walk, there is also a trolley that embarks along the tour. The tour covers centuries of local and national history and features many exhibits to stop and look at along the way.
Rent a car with us in Boston and drive over to Kenmore Square where you can do some shopping and grab a bite to eat. You can even vist Boston University to explore the campus before fall semester starts!
Looking to dance the night away while you are in Boston? It's never a dull moment at Tequila Rain! Spring is almost here, so get your car booked with us and prepare to party!
Several Boston businesses date back 140 years or more.
What else do you need to know about Historic Boston?
Puritans from England colonized Boston in 1630 on the Shawmut Peninsula, though archaeologists say the peninsula was home to natives over 6000 years prior to the English arrivals. The Puritans originally called their town Trimountaine, but it was soon renamed after the Boston of the English county Lincolnshire. The colonists soon created Boston Latin School (America's first public school) and Roxbury Latin School (which has continually provided education for over 360 years).

Boston was the second-largest town (behind Philadelphia) in Britain's American colonies – and one of the largest in the British Empire – when the
American Revolution
was fought from 1775 to 1783. Boston was central to several events of the war, including the Boston Massacre, the Battles of Lexington and Concord, the Boston Tea Party, Battle of Bunker Hill, the Siege of Boston, and Paul Revere's midnight ride. If you're in Boston, your rented car will make visiting any or all of these historic sites easy and fun!
By the time the United States became an independent nation, Boston was a major shipping port and a center for the new country's trade, manufacturing and engineering achievements. For example, the first subway system in the country opened in Boston in 1897. And its numerous universities and colleges make the city a hub of higher education, as well as medical research and treatment.
The Boston Tea Party Ships & Museum and Old South Meeting House staged a re-enactment in 2012. 
Photo from tea-party-boston.com


ONE TICKET for ONE LOW PRICE gets you into the things you want to do in Boston and the surrounding region. There are over 70 of Boston's best attractions and tours in our program including the Duck Tour, New England Aquarium, Museum of Fine Arts, Six Flags New England, and more. See and do the things you want while saving money with our pre-paid pass.
Planning to do it all and see it all? Go Card has it!
Your ticket to Boston
70 Attractions for One Price
Entrance to ALL 70 FREE with the Card
See as many as you want for the number of days you want
Guidebook Included


Got a few specific sites in mind? Explorer Pass has them!
Your choice of Boston's Best
Pick Three Attractions for One Price
Entrance to your choices are FREE with Card
Take up to 30 days from your first visit to your third
Boston revolutionizing the present
This guide will tell you some of the best road trips to do in Boston when you are driving there next. If you don't own your own car, just borrow one from a friend or rent one. Public transport is also an option, however you can get more done in a rental car since you won't be on a schedule so much.
Boston is a city where old meets new, the ghosts of American's past shake the hands of the contemporary artist, the educated and the talented.
When the rest of the western world was busy modernizing and contemporizing, Boston was nurturing its history; holding onto its past and accomplishments, its pulse that beats with ancient victory.
City skyscrapers are juxtaposed against Faneuil Hall, built by John Smibert in 1762! The grandeur of the Massachusetts State House stands proud and strong even though it was built in 1795 (pictured right).
19th Century majesty still breathes through restored hallways, red bricks tower heavenward and old oaks whisper secrets into the breeze. Boston never abandoned its heritage, it was celebrated.
Buried in the ground and lining the streets is the map to the past, the Freedom Trail follows the city's greatest sites and events, a walking time line if you please (takes a good couple of hours).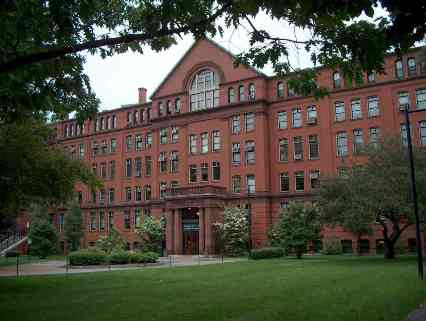 Culture
Centered on the arts and education, Boston is home of some the world's most celebrated galleries, museums and universities (that's the Harvard Museum, right).
The Museum of Fine Arts houses a great collection of classical pieces, with collections from infamous
Impressionist artists Renoir, Degas, Manet and Monet to name drop a small few. It's also the home of leading educational institutes Harvard University, MIT and Emerson College.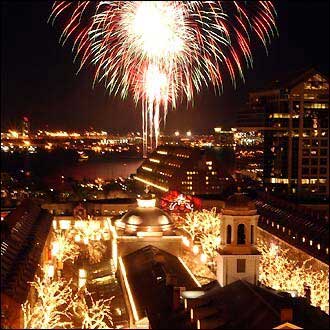 On the opposite side of the scale, Boston is also birthplace to the
ska/ punk
movement that swept music scenes globally (think the Mighty Mighty Bosstones).
You might think it's good now, with New Year (Bostonians call their celebrations
The First Night
), Chinese New Year, and St Patrick's day atmosphere lingering in the streets, but Boston city is just warming up.

Coming up this summer there's the Fourth of July Harborfest, and July Chowderfest, not to mention the Boston Film Festival in September and the unlimited amount of things you can do to celebrate the new summer breezes.
Activities
You can sail out on the Charles River, cycle on the Shining Sea Bike Path (scenes of Martha's Vineyard and Nantucket!), walk the Freedom Trail and swim around the shores of Cape Cod. Take an excursion out to the Boston Islands, each one with its own fascinating history.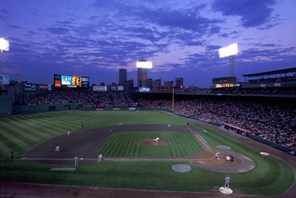 Catch a Red Sox game out at the infamous Fenway Park, the Boston institution of baseball (pictured left).
Even though the dreaded peak season is around June through to October in this city, it truly is the best time to go.
The air is comfortable by late May and the heat rises through July to August. If you're in search of the prettiest times however, September to October is the foliage season. Gardening gloves on! Be aware that prices will go up at these times and there may be restrictions on bookings regarding stay dates and extra charges or deposits.
Check out the best Boston car rental deals here!
Want to discover some more helpful info about Boston?
Population
: 617,594
Best way to travel: Car, Bicycle
#1 thing to do: Museum of Fine Arts
#2 thing to do: Boston National Historical Park
#3 thing to do: Boston Athenaeum
Boston Fun Facts:
Did you know that the average Boston restaurant charges $4.40 for a bowl of New England clam chowder?
Did you know that Boston is the capital of the U.S. state of Massachusetts, and is one of the oldest cities in America?
#1 Car Rental Companies
: Avis and Budget
Boston traffic in 1960, Photo by That Hartford Guy
Boston Car Rental
Boston
,
Massachusetts
United States